Amazon Warehouse Outlet – Overstock Outlet Deals
Where Does Amazon Warehouse Outlet, and Overstock Outlet, Used Stuff Come From?
The Items for Amazon Warehouse Outlet and the Amazon Overstock Outlet come from all of those opened returns, damaged boxes, and refurbished items.
People love discounts and Amazon knows they can sell these items at a reduced price. These sales generate massive amounts of income.
The sales for Amazon in 2019 came in at 280.5 billion U.S. dollars.
According to Forbes, Amazon Ships 2.5 Billion Packages A Year.
2.5 billion packages x 12-inch square average package size. (12-inch square size for ease of doing the math) = 2.5 billion feet.
473,484.8484848 miles of packages if placed end to end.
That's a lot of packages, enough to go to the moon and back. The moon is only about 238,900 miles from earth.
Can you imagine the number of returns and damaged packages generated by numbers that size?
Products that can either be repaired and sold as refurbished or repackaged for resale are graded with the Amazon Warehouse rating system.
The grading categories are (renewed) (used-like new) (used-very good) (used-good) (used-acceptable).
To view the full details of the rating system scroll down a little further.
Amazon Warehouse will determine the product condition, and then each item is graded and rated.
The rating is clearly listed in the product description.
Each item sold through the Amazon Warehouse Deals Program comes with the Amazon guarantee.
Amazon needs an outlet to sell these items and they needed to move them out the door quickly. Amazon Warehouse gives great deals and discounts in order to move them out fast. Making room for the new damaged and open box items coming in daily.
Amazon Warehouse And Overstock Outlet Deals – Are They Worth It?
You can purchase used, pre-owned, refurbished, and open-box products from Amazon Warehouse Outlet And Overstock Outlet Deals.
You can purchase used products from Amazon Warehouse while Amazon Outlet will have overstock items. Maybe you just like FREE Amazon promo codes. Read more, find out how to get Free Amazon Promo Codes and Deals on used and overstocked items. Learn where to look for them on the Amazon website.
Most people don't even realize that Amazon offers Promo Codes and Warehouse Outlet Deals. Keep Reading as I will explain how to get deals and discounts when you shop Amazon.
Purchasing used items from Amazon Warehouse Outlet will get you some great deals although they come with a slight risk.
Overstock Outlet Deals from Amazon can be found in practically every product category. Electronics, home decor to lawn and garden, automotive, and more.
If you're interested in saving money by purchasing returned, and used items. Amazon's Overstock Outlet Deals can be a great way to save you money.
If you're in the market to save a bit more and are willing to buy used-acceptable products. Amazon Warehouse is for you. It's easy to check for the availability of used items on Amazon. These discounted used items can also be purchased from Amazon Outlet if you look for them.
Used item availability is limited and changes often. They will be listed on the product description page if any are available for purchase. Amazon used items can be found in all categories as they become available.
Look at the screenshot below to discover where and how to find the used items that are currently available.
Get FREE Amazon Promo Codes and up to 80% OFF visit our pages at :
talkrally.com/discount-codes/
talkrally.com/discount-codes/jewelry/
Are Amazon Warehouse Deals and Amazon Outlet Deals Worth It?
When you decide to purchase used products from Amazon's Warehouse Deals, you must consider the savings. Is the risk of buying used is worth it?
Based on your risk tolerance level, the Amazon Rating System will help guide you to find a level where you are comfortable. The amount of the discount and how any damage would affect either its appearance or its ability to function properly. If you're not worried about the appearance and only its functionality. Super deals are waiting for you at Amazon Warehouse Deals.
I have purchased a few used items from Amazon Warehouse Outlet Deals myself. To my surprise, I found the items to be in very good condition. The Items I received were exactly as stated in the product description. The box was original, but it was obvious it had been previously opened.
From my past purchases and experience with Amazon Warehouse Deals, I would say it's worth the risk. As long as you carefully select products with low risk. You can see an example of a low-risk item in the screenshot below.
For instance, the risk can be higher if you purchase used electronics because they tend to be more costly.
The discount would have to be substantial for used electronics. You do not get the manufacturer's warranty on purchases of used items from Amazon Warehouse.
You could purchase a warranty through a third party for some items but the increased amount for the warranty may make the total cost unacceptable.
Most products from Amazon Warehouse Outlet come with Amazon's standard 30-day return policy. Amazon's 90-day return policy for Renewed items. Considering Amazon's generous return policy you could always request a full refund. Your purchase price will be refunded if you are not satisfied.
Get FREE Amazon Promo Codes For Jewelry From TalkRally
Were talking about jewelry discounts at TalkRally. Click here to get FREE Jewelry Promo Codes with offers to save 10% – 80%. Use these FREE Promo Codes and Discounts From TalkRally.com.
Buying Used Items From Amazon Warehouse Outlet or Amazon Overstock Outlet
The fact that an item was previously used doesn't bother me as long as it can last long enough after the purchase to justify the cost.
The problem with that is you just never know how long something will last. I'm sure we've all regretted a past purchase of a brand new item that only lasted long enough to make it through the warranty period. The decision to purchase used products is certainly something to consider if you like to save money.
Be assured if you are not completely satisfied with your purchase, Amazon is a reputable company and will stand behind the products they sell.
That's why I am more likely to purchase used items from Amazon. I can request a full refund.
Make sure the used item you are thinking of purchasing is coming from the Amazon Warehouse fulfilled by Amazon and not from a third-party seller.
With some third-party sellers, it may be more difficult to get a refund.
Example Of A Low-Risk Item To Purchase From Amazon Warehouse Outlet
In the screenshots below the regular price for this toolset is $89.87 and under the More Buying Choices label you can see, (44 new and used offers). The price of $67.40 is the lowest price you can purchase the toolset for in used-acceptable condition. A savings of $22.47 if you buy the used toolset. An Amazon Warehouse discount of 25%. This is a very low-risk Amazon Warehouse and Outlet Deal and well worth the risk in my opinion. Even better if you are an Amazon Prime Member the shipping is free.
Click on the (44 used and new offers) as seen in the above screenshot. You will then be directed to the page where you will get the screenshot shown below. Look below, the Crescent toolset is rated used-acceptable, with major cosmetic damages.
I would purchase this item without giving it a second thought if I were looking to purchase a toolset. It looks like the toolset has about a 4.5-star rating out of 1704 customer reviews. That's a good review. The chances are the plastic case has cosmetic damage which doesn't affect the performance of the toolset.
If all the tools are there and not damaged this would be a great buy.
With Amazon's 30-day return policy for this item, you can return it if you're not completely satisfied after receiving the toolset.
Send it back and get a full refund. Read the description of the used-acceptable rating below.
How Does Amazon Warehouse Outlet Rate The Condition Of Used Items?
The product rating system of Amazon Warehouse is As Follows.
1. What Does Renewed Mean On Amazon Warehouse?
A rating of Amazon Renewed means the product has been inspected by Amazon or a Qualified Amazon Performace Supplier and guaranteed to work and look like new.
It will have minimal to no signs of wear or cosmetic damage. This may mean it will have superficial scratches you will only see during a vigorous and up-close inspection.
You can view more details about Amazon's Renewed Guarantee Here which gives you a replacement or refund within 90 days of purchase.
2. What Does Used – Like New Mean On Amazon Warehouse Outlet?
A rating of used-like new means the product from Amazon Warehouse in this condition may end up being a new item that may only have damaged packaging.
The previous purchaser may have unboxed the item then changed their mind and sent it back to Amazon for a refund. The used-like new product description states that this item will be in perfect working condition but may not be in its original box or protective wrapping.
Furthermore, the item may come repackaged. The description will clearly define the details for each item. All accessories are present but may not be original. Accessories may be a generic brand.
3. What Does Used – Very Good Mean On Amazon?
A rating of used-very good means the product from Amazon Warehouse in this condition may have limited use and still in good working condition. The used-very good product description states the item may show some limited signs of wear with small scratches or cosmetic blemishes.
The item may have damaged packaging or will be repackaged. It may have missing accessories. If accessories are missing it will be clearly defined for each item.
4. What Does Used – Good Mean On Amazon?
A rating of used-good means the product from Amazon Warehouse in this condition may show wear from use but remains in good working condition.
The item may have cosmetic damage like identifying markings or visible scratches.
It likely arrives with damaged packaging or repackaged and may be missing some parts, accessories, instruction manuals, or assembly tools.
5. What Does Used – Acceptable Mean On Amazon?
A rating of used-acceptable means the product from Amazon Warehouse will clearly show signs of use. In this condition you can expect the item to be fairly worn but continues to function properly. Significant signs of cosmetic damage can include scratches, dents, and worn corners.
The item will likely arrive with damaged packaging or be repackaged.
The item may be missing multiple parts, accessories, instruction manuals, or assembly tools.
What Are Amazon Outlet Deals?
Amazon Warehouse Outlet Deals is yet one more place to search on Amazon to shop for markdowns and deals on overstock and clearance products.
The products featured on the Amazon Outlet Page are selected by Amazon, and likely overstock or discounted items.
Click below and check out the outlet deals and the outlet sales pages on Amazon.
You will find all kinds of product categories as you can see from the screenshot below. Click on the category you like to find awesome discounts. To get to this page on Amazon type or copy and paste https://amazon.com/outlet/ into your browser search bar or just type amazon outlet into the search bar when on Amazon.com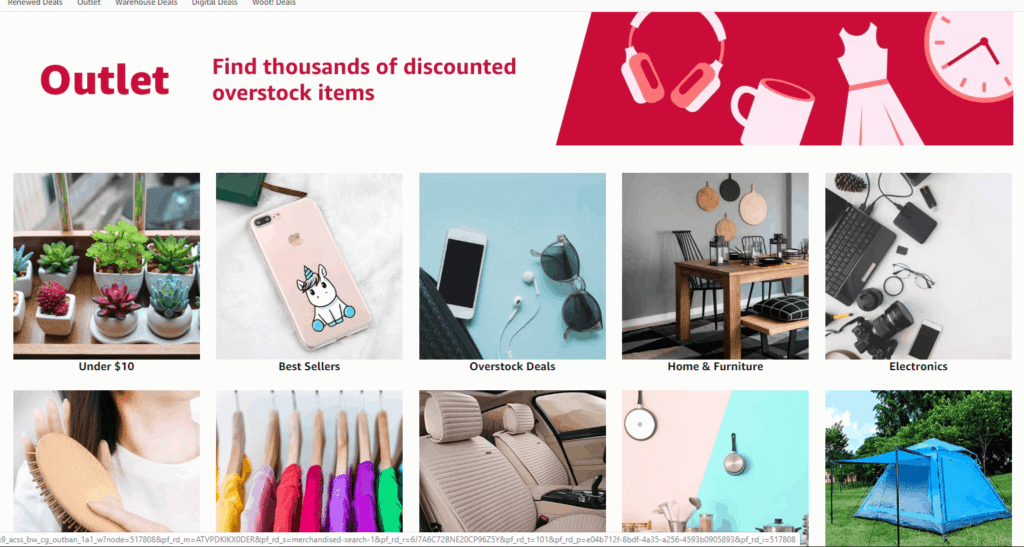 There are even more savings on these Outlet Deal pages if you choose the (buy used option) and purchase Used Items From Amazon Warehouse And Outlet Deals.
Amazon Statistics Information From: