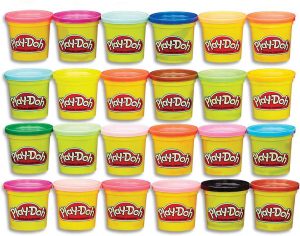 The 100 Year Story Of Play-Doh
A Brief Opening Story Of Play-doh
Let's talk about the history of play-doh or playdough, and how the play-doh story is not much different from the story of many other popular items we are familiar with today. The play-doh history begins in 1912 with the family-owned soap company Kutol. Founded in Cincinnati, Ohio, and tells a story about family, struggles, hard times, tragedy, and triumph. A struggling family-run company transforms a popular wall cleaning product, known as Kutol Wall Cleaner, and re-invents it, turning it into the iconic toy we all know of as play-doh today, or sometimes referred to as playdough with the homemade versions. The timetable below shows a concise and full history of play-doh from 1912 to current.
The Play-doh History Timeline
1912 – The Kutol Soap Company was founded in Cincinnati, Ohio
1927 – The Kutol Soap Company was facing financial hardship and closure. Cleo and Noah McVicker take over running the Kutol Soap Company
1933 – Cleo and Noah McVicker negotiate a wall cleaner contract with Kroger Grocery Stores
1949 – Cleo McVicker dies in a plane crash Cleo's widow, Irma McVicker hires her son, Joseph McVicker, and her son-in-law, Bill Rhodenbaugh, to head The Kutol Soap Company
1950 – The Kutol Soap Company once again faces financial difficulties
1955 – The modeling clay was classroom-tested in Cincinnati area schools
1956 – Joseph McVicker and his uncle, Noah McVicker, create the Rainbow Crafts Company, Inc
1956 – The Woodward & Lothrop Department Store in Washington, DC, began to sell the modeling clay for the first time under the name of Play-Doh
1957 – McVicker introduced his new line of Play-Doh to Bob Keeshan, otherwise known as Captain Kangaroo (a popular children's television series). Keeshan loved the product and made arrangements to use Play-Doh at least once a week on his show. Sales skyrocketed, and the Rainbow Crafts Company struggled to keep up with the overwhelming demand for this new toy.
1958 – Noah and Joseph McVicker applied for a patent for Play-Doh
1960 – Accessories like the fun factory became part of the Play-Doh line when McVicker hired two engineers to develop a product that could be used in multiple ways. with a small amount of effort, the fun factory would press and form Play-Doh into various shapes and designs.
1964 – With the new colors and accessories available the Rainbow Crafts Company was now producing and shipping more than 1 million cans of play-doh a year.
1965 – United States Patent Office officially patents the clay on January 26
1965 – General Mills purchased the Rainbow Crafts Company, Inc., and all rights to Play-Doh
1971 – Rainbow Crafts Company, Inc., and Kenner Products, both subsidiaries of General Mills, merge together
1987 – Tonka Corporation purchases Rainbow Crafts Company, Inc and Kenner, Inc.
1991 – Hasbro, the current producer of Play-Doh acquired all rights to Play-Doh and Rainbow Crafts Company, Inc
1998 – Play-Doh was inducted into The Strong's National Toy Hall Of Fame
Currently – At the time of writing this, Hasbro is the current owner of Play-doh or sometimes referred to as Playdough
It's interesting to look back at the history of things like play-doh. We can never know the future and where history will end up. Like the play-doh story, and the story of this iconic toy, who would have thought at the time a product that started off as a popular wallpaper cleaner would become one of history's most well recognized and memorable toys. Played with by more than three generations of children, and is still loved by children today. Play-Doh will remain on the list of popular toys for generations to come.
Do you think play-doh would be the popular and iconic toy it is today if not for Bob Keeshan, also known as Captain Kangaroo? If had not agreed to endorse play-doh on his popular children's television series. Who knows what this story would have ended up looking like.
Get The Best Discounted Play-doh Sets On Amazon
Refferences: