DIY Backyard Rubbermaid, Suncast, and Keter, Easy To Build Sheds
Power equipment, tools, ladders, and bikes dragging around with no place to put them. Need a place to put everything? Good News! It's just a one-weekend project to get your things organized and neatly put away. If you can use small hand tools you can get this done.
Building a storage shed, tool shed, or a garden shed in your back yard doesn't have to be complicated. Sizes available to fit any space, 8'x10′ shed, 13'x8′ shed, 8'x12′ shed, get exactly what you need. With the choices available these days from your local home center or if you order online from Amazon. Your shed project can be completed quickly and easily as a weekend DIY shed project.
If you're not handy with power tools and still want to save some money by building a shed yourself, then one of these sheds from Amazon is just what you need.
Don't have the time to DIY? Would you rather hire someone to build it for you?
Did you know Amazon offers home services that can help with building your shed?
Get more information about Amazon Home Services.
Try Amazon Home Services
What's The Advantages Of Buying A Precast Ready To Build Storage Shed?
1. Weather Resistant And Will Not Rot
Made of a plastic resin material that will not rot or be eaten by wood-destroying insects like termite and ants. Will not rust like sheds constructed from metal.
2. Very Low Maintenance
Due to the plastic resin being colored during the molding process it will never need a new roof or painting. Only an occasional washing to keep it looking neat and clean.
3. More Economical Choice
Save time and money when compared to building from wood or metal. You can build it yourself and save time and labor costs encountered with a wood-framed shed.
4. A Variety Of Styles And Sizes
Choose from a variety of colors, styles, and sizes. You should be able to meet appeal in color and style and find a fit for locations with space requirements.
Back Yard Shed Ideas And Plans for The Hands-On DIY Homeowner
Your Free 12′ x 8′ pdf Shed Plans Are At The Bottom Of This Page
If you need a larger storage shed, garden shed, or tool shed for the back yard and are able to work with and use a few power tools, then you will want to check out some of the plans below.
Each of these plans has a detailed materials list and the plans will show you every step along the way. Simple step by step instructions any DIY handyman can follow to complete any of the beautiful sheds you see below.
1. Garden Shed Plans
2. Cabin Shed Plans
3. Garage Shed Plans
4. Tool Shed Plans
Step-By-Step Details
Get All The Details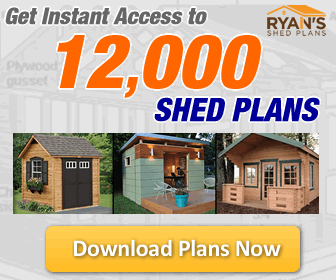 The details of these plans will make your shed project a breeze. Step by step easy to follow plans to build small or large sheds. Get the complete collection of plans to build a storage, garden, or tool shed.
Why You Need To Have Detailed Plans To Build A Shed
Every project begins with a good set of plans.
Are you looking to build a tool shed or garden shed at home in your back yard but don't know where to start or what goes into it?
It turns out that even with zero woodworking experience; you can build any of these amazing sheds on a weekend. However, you will need to have a detailed plan and materials list for the project. Unfortunately, though, most shed plans sold by woodworking publishers today won't help you. In this post, we're going to tell why this is the case and how MyShedPlans is going to help you out.
So what's MyShedPlans all about and who is it for?
Who Is Ryan Henderson And My Shed Plans?
Ryan Henderson, a professional craftsman, and educator give you a variety of shed plans to help you build any kind shed at home. And you don't need to have woodworking experience to use the plans; they are detailed enough and come with "hold-you-by-the-hand" step by step instructions.
MyShedPlans offers the most complete home project resource you can buy on the Internet.
It is bursting with plans for over 12,000 woodworking projects! You will find plans for birdhouses, garden furniture, sheds, full-size decks, and everything in between. If it can be made out of wood, it will most likely be here.
As mentioned earlier, the shed plans sold by woodworking publishers can't help you. I once wanted to build a shed. So I went online, bought the cheapest shed plan I could get, and started following it. I got the tools, the 2×4's, and even began cutting to size. I didn't proceed much; I got stuck not knowing how to get from one point in the plan to another. If you have ever bought a plan to help you build any project, you probably know what I am talking about.
Many of the plans sold by publishers are not even written by woodworkers. They are written by ghost-writers who have never touched a chisel or a piece of lumber in their life. So, such plans often have wrong instructions, are either too dumb down or too complicated.
A good shed plan can only be written by a woodworker with experience building a lot of projects and teaching the craftsmanship to others. With Ryan's shed plan, you will never need to hire someone to build a shed for you. You will complete it yourself and within the shortest time possible.
And if you are going to invest your money, energy, and time into building a shed by yourself, then you need a detailed plan that has everything you need to know about building a perfect shed. The plan should also include factors you need to consider when building a shed, from the most basic to the most critical.
With up to 12,000 detailed plans, MyShedPlans is arguably the only place you are going to get a complete plan that will help come up with the shed you want. Note also that the plans have different designs and styles. So you will get to compare the styles and designs and build a one of a kind shed that stands out.
Among other things, the plans will give you; Views from all angles. This will help you see how everything will look before you start building. Find the perfect plans to build a storage, garden, or tool shed to enhance your back yard outdoor space.
Step-by-step instructions. The instructions are so detailed you'll know exactly what to do in every step.
Lists of materials and cutting lists, so you know what to buy, the quantity, and how to cut the materials. The cutting lists include measurements.

3D drawings
CAD designed drawings
"Used for" labels to help you know what each material is used for and when you will need it.
Visit MyShedPlans today, get your plans, and complete your shed inexpensively and quickly.
DIY Storage Shelving For Tool Sheds, Garage Sheds, Cabin Sheds, And Garden Sheds From Amazon
Get more heavy-duty storage and shelving options for your shed or garage here.
FREE 12′ x 8′ Shed Plans Download
Get Free Discounts And Promo Codes From TalkRally
Affiliate Disclosure:
We offer discounts from affiliates that we partner with, we may earn a small commission for referring customers to these affiliates, however, this does not affect the final price you pay for any items you select. You will always get the best available price with the discounts and promo codes we offer here at TalkRally.